Yellowstone National Park
Where the dormant volcanos might just come alive in the next 100 years!
---





---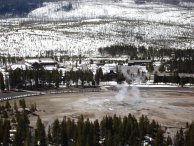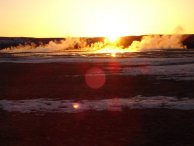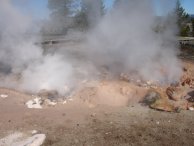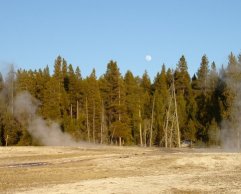 Press on each of the photos to enlarge it.
This is one of America's more remote National Parks to the north of Salt Lake City. During summer hoards of massive holiday home vehicles descent on the area as people come to the area to see the wildlife and live out a safe version of living in the wilderness.


The 2nd photograph shows the sun setting behind a smouldering geezer as night fall is about to descend. As you can imagine the temperatures go mighty low around here and since the bears are dark I do not recommend you hang around on foot.


The 1st photo is of the famous Old Faithful geezer in the village of the same name.

This view is not the common one witnessed by thousands of mainstream tourists but is taken from a path and observation point high up above the geezer. You can see the on lookers gathered around the wide circular viewing walkway just as Old Faithful is about to erupt.


The 4th photograph shows the deep blue sky and crisp colours whilst in the middle of the sky is the moon.

I think I need to find another photograph.


Below are some of the things you should do in Yellowstone to get a flavour of wilderness and the wild.


One could easily spend 2 - 3 days just exploring all corners of the park and enjoying nature.


The top ten things to do or not do include:



Don't stroke the bears - they will eat you

Breath the fresh air - being so far from anywhere

Watch Old Faithful erupt - the Park Rangers will give you the approximate time +/- a few minutes

Don't leave rubbish - it's rude and shows poor breeding

Keep fingers crossed - that no volcano activity will happen

Check the opening times - mid April is when the Park begins to open properly after the winter season

Explore the bubbling hot water pools - but don't throw things in

Keep hydrated - at these high levels and with the sun out you need to keep drinking water

Take plenty photographs - but leave with memories

Leave before sunset via the South Entrance - driving through the Teton Mountain Range in the evening is sheer delightful.

---
---
Page being written December 2007